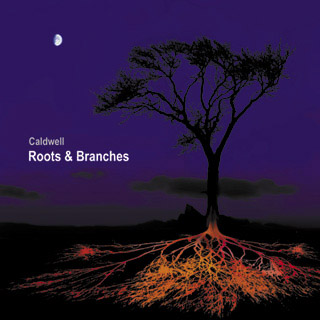 Buy This Disc

Caldwell Roots & Branches is the 2003 edition of the
Caldwell County Traditional Musicians Showcase.

1. My Window Faces the South
(Livingston-Parish-Silver)
Kay Crouch piano, vocal
Ron Shuffler bass
Patrick Crouch guitar

2. Rollin' Ball
(Uncle Jam Band)
Kurt Benfield lead vocal
Nathan Brown guitar
Joe Holland keyboards, vocal
Graham Bost drums
Jim Bolt bass, vocal
Jimmy Davis tenor saxophone

3. Locked Out of Your Heart
(Ray Whisnant)
Ray Whisnant lead vocal, guitar
Kay Crouch piano, vocal
Ron Shuffler bass
Patrick Crouch mandolin

4. Ready for the Times to Get Better
(Allen Reynolds)
Cecil Palmer electric guitar
Ray Owens piano
Kay Crouch congas
Ron Shuffler bass
Patrick Crouch guitar

5. Only a Memory Away
(Mike Henderson)
Clarence Greene mandolin, vocal
Jeff Summerow guitar, lead vocal
Ron Shuffler bass
Patrick Crouch banjo

6. Please Don't Talk About Me When I'm Gone
(Sidney Clare-Sam H. Stept-Bee Palmer)
Ray Whisnant lead vocal, guitar
Kay Crouch piano
Ron Shuffler bass
Patrick Crouch lead guitar, banjo

7. Rose of Love
(Fitzmorris-Rhodes)
Clarence Greene mandolin, lead guitar, lead vocal
Kay Crouch vocal
Ron Shuffler bass, vocal
Patrick Crouch guitar, banjo

8. Comin' Home
(Torme/Uncle Jam Band)
Jimmy Davis tenor saxophone
Kurt Benfield trombone
Nathan Brown guitar
Joe Holland keyboards
Graham Bost drums
Jim Bolt bass

9. Women I've Never Had
(Hank Williams Jr.)
Cecil Palmer electric guitar, lead vocal
Ray Owens piano
Kay Crouch drums
Ron Shuffler bass
Patrick Crouch guitar

10. Diane
(Ed Bruce)
Ray Whisnant lead vocal, guitar
Kay Crouch piano, vocal
Ron Shuffler bass, vocal
Patrick Crouch lead guitar

11. Heavy Weather
(Uncle Jam Band)
Kurt Benfield lead vocal, tambourine
Nathan Brown guitar
Joe Holland keyboards
Graham Bost drums
Jim Bolt bass

12. Just Because
(B. Shelton-J. Shelton-S. Robin)
Dawn Owens lead vocal
Cecil Palmer electric guitar
Ray Owens piano
Kay Crouch drums
Ron Shuffler bass
Patrick Crouch guitar

13. Last Train From Poor Valley
(Norman Blake)
Clarence Greene guitar, mandolin, lead vocal
Kay Crouch vocal
Ron Shuffler bass
Patrick Crouch banjo, vocal

14. I Never Go Around Mirrors
(Lefty Frizell-Sanger Shafer)
Ray Whisnant lead vocal, guitar
Kay Crouch piano, vocal
Ron Shuffler bass, vocal
Patrick Crouch lead guitar

15. Jealous Mind
(Uncle Jam Band)
Kurt Benfield lead vocal
Nathan Brown guitar
Joe Holland keyboards
Graham Bost drums
Jim Bolt bass

16. Alabama Jubilee
(George L. Cobb and Jack Yellin)
Dawn Owens lead vocal
Cecil Palmer electric guitar
Ray Owens piano
Kay Crouch drums
Ron Shuffler bass
Patrick Crouch guitar

17. Saved Through Jesus' Blood
(Traditional)
Clarence Greene guitar, lead vocal
Tonya Lowman duet vocal
Ron Shuffler bass
Patrick Crouch mandolin

18. The Hobo Song
(Jack Bonus)
Patrick Crouch banjo, mandolin, lead vocal
Kay Crouch guitar, vocal
Ron Shuffler bass vocal


---
Recorded at Ticknock Studio, Lenoir, NC
January 17 – March 2, 2003

Produced by Patrick Crouch
Engineered by Patrick Crouch
Mixed by Patrick Crouch, Kay Crouch, Clarence Greene, and Jim Bolt
Mastered by Derrell Johnson at Derrell Johnson Studio, Hudson, NC

Special thanks to Derrell Johnson, Lee Carol Giduz, and to David Briggs
and the staff of the J.E. Broyhill Civic Center, Lenoir, NC.

Very special thanks to Cecil, Clarence, Ray, and Jimmy,
whose musical roots run deep and whose branches shelter us all.

And lastly, thank you to everyone who has supported
the Caldwell County Traditional Musicians projects by
listening to our music.